4(+1) Christmas Cocktails that you should not miss in 2021
Christmas is at the doors, you're probably thinking about organizing your perfect Christmas day or Christmas eve, decorations, drinks, appetizers, but do not worry, Dr. Party's got you covered. We've put the perfect Christmas cocktails that will make your day unforgettable.
Grinch Cocktail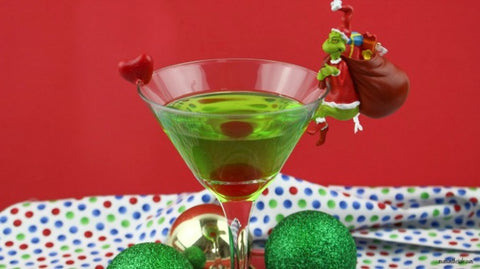 The Grinch themed cocktail is the perfect cocktail for your green Christmas, all you need is :
3 oz Midori liqueur

1 1/2 Tablespoons freshly squeezed lemon juice – strained

2 Tablespoons of syrup

1 preserved cherry (maraschino cherry)
Add few ice cubes to your shakers, mix the Midori liqueur, the strained lemon juice and the syrup. Shake it like your life depends on it and…voilà, pour the mixture in your martini glass and enjoy your wicked Grinch cocktail!
Eggnog Martini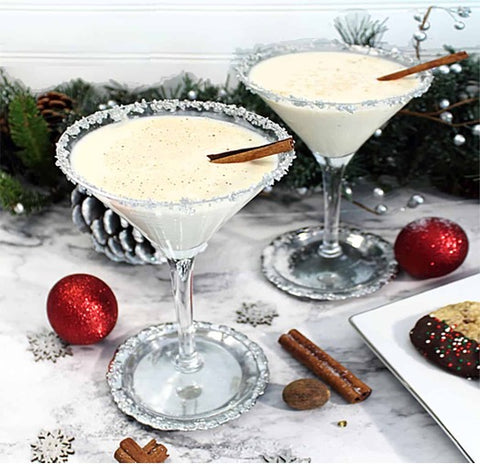 You have probably heard of Eggnog Martini, a creamy and festive cocktail perfect for your Christmas celebration.  The recipe is simple and quick, only few ingredients for creating your Eggnog Martini.
4 ½ oz eggnog

1 ½ oz vanilla vodka

¾ oz Amaretto

Pinch each of nutmeg & cinnamon

Garnish: silver sugar nutmeg, cinnamon stick
Firstly, dip your glass brim in the vanilla vodka and then in the sugar to make sure it sticks properly. Secondly, add ice to your shaker, then mix eggnog, vanilla vodka, Amaretto and a pinch of each spice. Once you complete this step, shake for about 10-15 seconds. Strain and enjoy!
Jack Frost Cocktail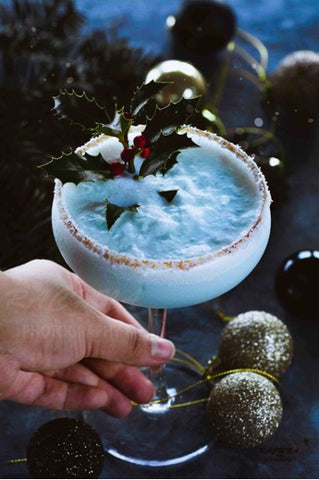 Add some sweet flavour to your Christmas, with this beautiful blue Jack Frost Martini, it will leave your guests astonished and put you in the spotlight! This stunning Martini will take only 5 minutes of your time.
Prepare the following ingredients for this delicious cocktail:
Light corn syrup

Shredded coconut

1/2 cup pineapple juice

1/4 cup blue curacao

1/4 cup vodka or light rum

1/4 cup cream of coconut
Start by preparing your glass rim, wet your martini glass with corn syrup and then dip it in shredded coconut.  In a blender, add 5-6 ice cubes (you can adjust the quantity for desired consistency), then pour the pineapple juice, curacao, vodka and cream of coconut. Keep blending until you achieve your desired consistency (preferably 2 minutes) and pour your Jack Frost in your Martini glass. Make sure you serve it immediately!
Pomegranate and Rosemary Spritz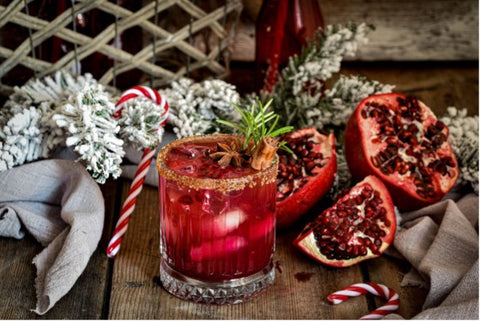 Last, but not least, I want to share with you an Italian traditional pomegranate Christmas cocktail. Pomegranate is a symbol of prosperity, strength and union, which are all Christmas values. So… what better way to express those virtues if not with a pomegranate and rosemary spritz?
Ingredients:
1/3 cup of fresh pomegranate juice
1/3 cup of Bitters
1/3 cup of soda or mineral water (you can also replace the water with ginger beer)
 Gingerbread syrup
Cinnamon sugar (or brown sugar)
Pomegranate seeds
Cinnamon stick
1 Anise star
A sprig of rosemary
Wet the glass rim with gingerbread syrup, then dip it in cinnamon sugar. Put 3 cubes of ice in your cocktail shaker, then add your pomegranate juice, bitters, soda water and 1 tbs of gingerbread syrup. Shake for 10 seconds and bingo! To create the perfect Xmas mood, decorate with few pomegranate seeds, cinnamon stick, one anise star and a sprig of Rosemary. Cheers!  Or should I say "Alla vostra salute"!
Dr. Party x Upswing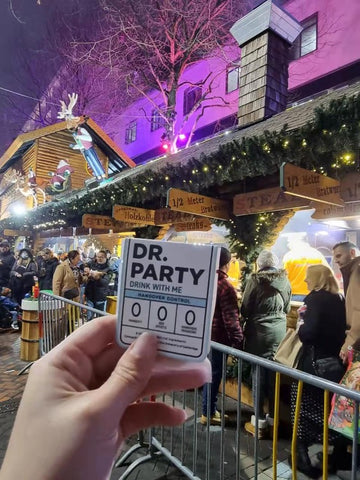 Don't forget the most important "ingredient" to your cocktails! If you want a fresh morning after those amazing cocktails, remember to take two capsules of Dr. Party x Upswing with a balanced meal and water before partying likes there is no tomorrow!
---