What should you put in your wedding hangover kit in 2022?
A fun night out is always better when you know you'll get a good night's sleep and feel wonderful the next day. As a result, the wedding hangover kit is becoming increasingly popular. The best approach to get hangover kits to guests is to deliver them to their hotel rooms before they arrive. They'll have them when they need them the most: right before bedtime and right after they get up.
What Is a Hangover Kit and How Does It Work?
A hangover kit is a guest favour bag containing the materials needed to transition from a wild night of drinking and indulgent cuisine to a pain-free start the next day.
"The fundamentals are some form of pain relief, something for an upset stomach, and something to enhance your immunity," says Jamie Kutchman Wynne, an artisan gift creator. "However, if you want to up the ante on your hangover kit, consider including silk sleep masks, pillow spray, lip balm, band-aids, fuzzy socks, a facial masque, and earplugs."
GET TO KNOW THE PROFESSIONAL
Marigold & Grey, founded by Jamie Kutchman Wynne, manufactures personalised and pre-packaged gift boxes and bags for weddings, birthdays, and other occasions. Google, Pinterest, LinkedIn, Kate Spade New York, Bloomingdales, Microsoft, and VISA are among the companies for which Marigold & Grey has made personalised presents.
Another great way to add your wedding branding or design is in hangover kits. "This way, the hangover kits match everything that visitors have seen, such as save-the-dates, invitation suites, and even the rest of the wedding welcome gifts," Wynne explains. "In cases when monograms aren't desired, a simple phrase like'relax and recharge' can be useful because it quickly informs guests about what they'll find inside."
Though there are lots of pre-made hangover kits available on Etsy and other sites, making your own may be a lot of fun. Here are some suggestions to supplement yours.
1

.

Custom Wedding Tote from Pressedshop
Sure, those charming little drawstring bags are adorable, but you know what's even better? Something you can use to quickly retrieve clothes and shoes left in another guest's hotel room while getting ready, or as a last-minute extra carry-on bag for the journey home. This just-cheeky-enough design comes in 21 different colours. On Etsy, they start at $5 each.
2

.

Upswing® Anti-hangover Nutritional Supplement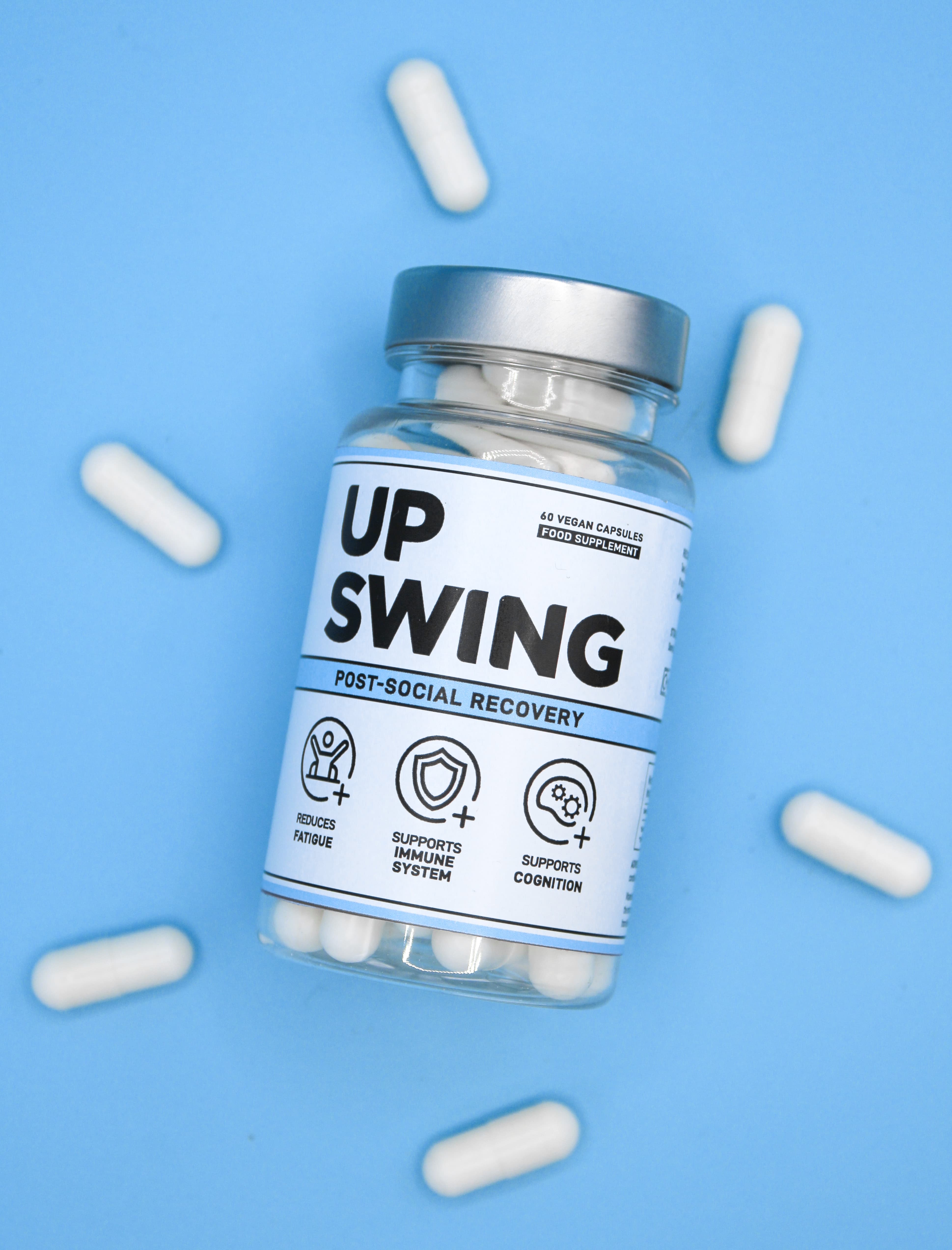 It wouldn't be a hangover kit without Upswing®. If you have gone over the limit,  Upswing®'s clinically proven mixture will always be there to prevent your hangovers. We are here to guard your morning 24/7.
3

.

Wedding Water Bottle Label Hangover Relief Kit
Because while hydration is important, there's no reason you can't have some fun while doing it. To remind guests of the pleasure they had the night before, wrap water bottles in personalised labels. Zazzle offers four labels for $4.45.
4

.

No-Crease Hair Elastics by Mercedesbandz
For a sleek low-maintenance ponytail during the post-wedding breakfast the next day, and for holding your hair back without damaging a fresh blowout. On Etsy, 24 for $10.
5

.

Earplugs Mpow Ultra-Soft Foam
Getting a good night's sleep is essential for avoiding a hangover. These non-toxic earplugs made of PU material will help guests block out sounds. On Amazon, you can get 60 for $13.
6

.

AdvancedCare Plus Hydration Packets from Pedialyte
Pedialyte is no longer exclusively for kids! These powder packets provide 33 percent more electrolytes than the previous form, allowing you to rehydrate faster. Amazon has it for $93 for 80.
Breath Strips Listerine Cool Mint Pocketpacks
Sometimes chewing gum isn't enough. Your guests will appreciate the short refresh of their stale, dry tongues in the morning. Office Depot charges $35 for 18 packages.
8

.

Tablets of Pepto-Bismol
These stomach-soothers will be appreciated by guests who are feeling nauseous or queasy after a night of partying. Walmart sells 25 packets for $26.
9

.

Coated Advil Ibuprofen Tablets
Go away, headaches! For this frequent hangover symptom, Advil comes to the rescue. Walmart sells 50 packets for $14.
10

.

a $5 Starbucks gift card
Coffee is the most effective way to motivate yourself to get out of bed the next day. Especially when they know you're getting the first cup. On Amazon, you can get ten gift cards for $50.
11

.

Peel M-61 PowerGlow®
Because of skin-refreshing components including glycolic acid, vitamin K, bilberry extract, and chamomile, these one-minute, one-step exfoliating facial peels have a cult following. Consider it a quick facial that will brighten, soften, and level out your skin tone while you're still half asleep. Bluemercury sells 60 wipes for $116.
12

.

Neutrogena Makeup Remover Wipes, each wrapped
The last thing you want to do before going to bed is remove your makeup. The process will be sped up by using these single-use cleansing towelettes. Walmart sells 20 for $6.
13

.

CozyChic Sleep Socks by Barefoot Dreams
Do you want to go all out with your hangover kit? Guests will be kept warm and comfortable while sleeping in these plush, non-binding socks. They'll also serve as slippers, which are essential when dealing with the cold tile of a hotel room floor. Bare Necessities charges $15 for a pair.
14

.

Granola Bar from Nature Valley
If you oversleep, this childhood lunch classic might help ease stomachs or serve as breakfast. On Amazon, 24 for $11
15

.

Mini Dry Shampoos by Batiste
No one wants to wash and style their hair first thing in the morning. To assist guests maintain their look from the night before, include dry shampoo in their hangover kits. On Amazon, 4 for $16.
16

.

Carpe Antiperspirant Underarm Wipes On-the-Go
You don't have time to shower? It's no problem. These odor-controlling, sweat-blocking underarm wipes will help you feel fresh and dry in no time. They're also free of parabens, phthalates, formaldehydes, and sulphates, which is a nice addition. On Amazon, you can get 15 for $20.
17

.

Radiant Bloom Wedding Hand Sanitizer Packet on Zazzle
Hand sanitizer, let's face it, is a must-have item at every event these days. The floral pattern on these individual packets is sweet (and customizable! ), but we also like the look of this more simple approach. Zazzle has items starting at $23 for a set of 20.
18

.

Sunglasses Wedding Star 4436-10
Don't use a logo, and don't use bright colours. Simple black sunglasses will protect your eyes from harmful UV rays while not blaring "I'm hungover from a wedding!" everywhere you go. Walmart sells these at $2 apiece.
19

.

25-ounce container of Vaseline
Vaseline, rather than lip balm, is a preferable choice for a hangover kit because it can be utilised in a variety of ways. (For example, to ease dry eyes and cuticles, or even to make your scent last longer.) On Amazon, six 0.25-ounce jars cost $11.
21

.

Wipes to Remove Stains in an Emergency
Ketchup, red wine, and even eyeliner can't stand a chance against this powerful, non-toxic stain remover, which works equally effectively on sofas as it does on garments. On Amazon, you can get 25 wipes for $24.
---